William Quigley: Back to Painting
William Quigley, who poses with some of his paintings, has a studio that takes up a huge space in the Schenck Fuels complex in East Hampton Village.
Trying to capture the essence of William Quigley is like chasing a drop of water in a pond. The words come quickly and his stories spread so quickly that it is next to impossible to grasp their entirety.
In a conversation last week he talked about his success, even if it was always about being seen and represented. This is despite the early attention of the Philadelphia gallery where he is from; New York, where he attended graduate school at Columbia University, and Los Angeles, where he lived for 10 years, including during the 1993 riots not far from his studio there.
When writing about him it's often easier to define, such as the purchase of his portrait of Donald Trump by a straw bidder, allegedly by the since-defunct Trump Foundation in July 2013. It was a transaction that Michael Cohen, Donald Trump's former Attorney has said he may have charged Mr. Trump with fraud in New York State. Then there is Christian Karl Gerhartsreiter, a man who successfully pretended to be a member of the Rockefeller family for years. He was a friend and collector of Mr. Quigley's work before it was exposed.
The tabloid stories make it tempting to dismiss the artist as a mere object of curiosity. However, this is not fair for a long and serious career in painting that has made him collectors across the country.
One of his latest projects and "a big deal" for him is a portrait of Ruth Bader Ginsburg. "I'm learning so much about what she's done for women and our culture." It was commissioned as the 18th piece by John and Johanna Boynton.
For Keith Stoltz, who owns Electric Lady Studios, he worked on a 15-foot painting about the studio's history and a 6-foot portrait of Jimi Hendrix. "For the past five years I've tried to listen, learn, read, watch, and talk to so many musicians who love him or people who actually knew him." He's also working on a portrait of Prince.
Mr. Quigley's work, mainly from 2016 onwards, will be featured in the Southampton Arts Centre's annual East End Collected exhibition, which opens this weekend and is organized by Paton Miller, another well-traveled artist but has mostly settled on the South Fork.
In his early years in New York, Mr. Quigley quickly learned the politics of the art world. He showed downtown clubs like Area with artists like Keith Haring and Jean-Michel Basquiat, but didn't want to tell his classmates in Columbia. "They weren't big fans. They made it clear that they didn't think their work was going to last."
"American history after 1980 during an election year"
His student years – in Philadelphia and New York – also brought him in contact with Andy Warhol, Willem de Kooning, Lee Krasner, Laurie Anderson and John Alexander, artists who have long had ties to the field and who often encouraged him to visit. Jane Wilson was a student co-chair of the Columbia Arts Department. It took a while, but he's been here full time for seven years and loves the community he's befriended.
He said he'd rather not talk about his portrait of Mr. Trump, but he has a lot to say. It originated from a suggestion from his mother, Janet Hook, who led neurosurgery but still values ​​instinct and spirituality. She is also worried about her son.
When he realized he was in his forties, sitting in his 3,000-square-foot attic in SoHo, he said his mother called him and said she was worried about his finances. She told him to see The Celebrity Apprentice because "it could teach you a lot about business and you should do a painting of Donald Trump". That was in 2006.
The result was a three meter long canvas that sat in his studio for years. "I always try to bring my portraits to the person I painted. That tells me they have to like it, that it has some validity." He tried to offer it to Mr. Trump, who said, "was a little complacent, he wouldn't talk to me."
Someone else was interested, but when he was invited to show at Art Hamptons, he decided to sell the painting as a fundraiser for Guild Hall. According to media reports, Mr. Trump found out about the sale and was offered by a friend. He then tweeted about it. In his 2019 congressional statement, Mr Cohen said he used the foundation's money to repay the buyer of the painting for Mr Trump.
Mr. Quigley's experience was different. He said he personally received a check from Mr. Trump. Some of the money went to the guild hall and some went to Soldier Ride.
These days he is content to live in the land of his early idols and later acquaintances. The time he does not spend on assignments is devoted to personal and abstract work. He is encouraged to go in that direction by traders like Julie Keyes and Mark Borghi.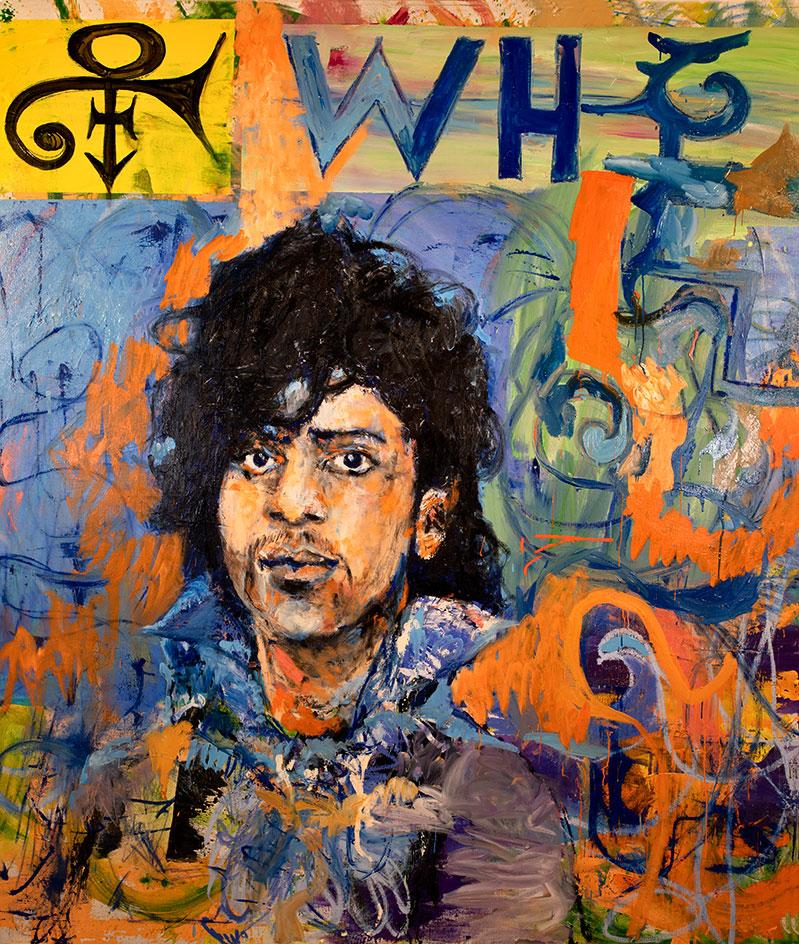 "Prince"
In recent years Chris Evans has asked him to do a painting themed from the Avengers films for Robert Downey Jr. (who owns Windmill Cottage in East Hampton and who Mr. Quigley knows from his time in LA). After Mr. Quigley finished the painting, he sent it to Mr. Downey's house in Malibu. It was some time later when he saw Mr. Downey in a promotional video for the last "Avengers" movie before the painting. He also mentioned Mr. Quigley by name. "I had tears in my eyes," he said, still sounding touched by the memory.
A second painting, on the theme of Avengers, is 90 percent complete and was made at the request of Mr. Downey to promote and raise awareness of the Rohhad Association. The non-profit organization raises money for research into a rare and fatal childhood syndrome. The painting was shown in an October exhibit at Keyes Art in Sag Harbor.
Over the years, Mr. Quigley had much to distract him from painting. From 1999 to 2015 he worked with a Boston-based band called Dispatch. A friend and collector, Pete Francis, who played guitar and bass and was the band's lead singer, asked him to do art for one of their album covers. It was a painting called "Who Are We Living For?" It became the title of the recording.
He'd worked as the art director on music videos for Madonna, Tom Petty, Prince, and Fred Durst, "to pay my bills in LA. Tired of it, and moved to New York. I wanted to paint full-time and started doing When She was too came to me and asked me to work with their band, I said, "I don't really want that." ""
Even so, he started working on their website, marketing, and merchandising. He got appearances at Irving Plaza and other smaller but significant venues. "I told them that one day we would play Madison Square Garden. Seven years later we were going to play Madison Square Garden." The concerts the band played there and elsewhere raised millions in aid to Zimbabwe and famine relief in general, he said.
In the last few years he has finally allowed himself to concentrate mainly on painting. He's in a good place for the most part, despite losing his father to Covid last year. "It takes a long time for an audience and a community to support you. I am very happy and feel good about it."
"East End Collected"
In addition to Mr. Quigley, "East End Collected" shows the work of Linda K. Alpern, Mary Boochever, Deborah Buck, Dominic Cantasano, Isadora Capraro, Philippe Cheng, Joe Chierchio, Jerry Cooke, James Croak and Noel de Lesseps. David Geiser, Mary Delaney, John Dios, Melodie Guini, Candace Hill, Dennis Lawrence, Christina Matthai, Gerald Monroe, Ryan Moore, Shimon Okshteyn, Zach Osif, Patrick Peters, Leila Pinto, Doug Reina, Bastienne Schmidt, Christine Sciulli, Anne Seelbach , Agathe Snow, Kevin Teare, Catherine Van Milders, Maria Vasconcelos, Linh Vivace, Claire Watson, Carol Weinberg, Suzanne Wetanson and John Whelan.
The exhibition opens on Saturday and stays on until April 11th.