Sotheby's cites UMSL professor's research in sale of Botticelli painting
In January, Kurt Schreyer's brother sent him a link to an article about a record-breaking art auction.
Sandro Botticelli's painting "Portrait of a Young Man Holding a Roundel" had just sold at Sotheby's for $ 92.2 million. It was the highest price ever paid for an Old Masters painting. Schreyer's brother is not a fan of art, but he recognized the painting on the cover of Schreyer's book "Shakespeare's Medieval Crafts: Remnants of the Mysteries on the London Stage".
Curious about the sale, Schreyer began browsing Sotheby's website and received a shock.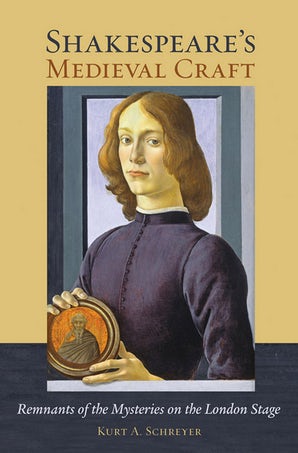 "I was wondering if I would find some of the scientists I knew from my own research on Sotheby's list of academic references," he said. "Of course they were there, and then my eyes fell on my own name."
Sotheby's cited his book as the authoritative source for the Botticelli portrait. Schreyer, Associate Professor of English at the University of Missouri-St. Louis, quickly realizes that he is not an art historian, but he was honored nonetheless.
"It felt like a great appreciation, and eventually I was able to give my opinion, my scholarly reading, of the painting," he said. "I think, modestly, it's a deserved quote, but it was a big surprise because I'm a literary scholar."
Schreyer teaches courses on William Shakespeare and early English drama. However, his academic interests and research extend beyond the Bard of Avon. He has also explored the connection between the late Middle Ages and works of the Renaissance, such as Shakespeare's plays.
He first became interested in the subject as a student when a professor theorized that pre-Reformation English drama had a greater influence on Shakespeare than was ever attributed to it. The idea stuck to him as he continued his studies and made a career as a literary scholar.
Eventually it led to the publication of Shakespeare's Medieval Crafts: Remnants of the Mysteries on the London Stage in 2014. The book examines Shakespeare's relationship to the culture of the late Middle Ages.
"We often think of Renaissance authors as people who define their age," said Schreyer. "Think of Shakespeare, but also think of Da Vinci, think of Botticelli. There is a tendency to foreclose them in their own time in the Renaissance and say they are a painter, writer, or artist of the Renaissance. In fact, the book argues that if you look closely at her work, her paintings, her plays, one can see influences from the previous age – not just influences, but that there is a deep connection. "
Schreyer noted that there were specific works from the late Middle Ages that inspired Renaissance artists and writers. As he was finishing his book, he came across Botticelli's Portrait of a Young Man Holding a Roundel, a painting that perfectly exemplifies this idea.
Botticelli painted several portraits of young men holding round objects like medals. However, the painting in question hides a secret that most viewers would not think twice about.
"Here's the thing about this particular painting: if you look closely at the round object, it looks like Botticelli just painted this round holy figure," said Schreyer. "He didn't. The painting is on a wooden plaque, and he actually carved a place in the plaque so that he could insert a medieval remnant of a medieval painting – likely an altarpiece – that contained this saint figure. He put it in this portrait. If you have that, you have a Renaissance artist building his modern work around the medieval object. "
The portrait perfectly illustrated the argumentation of the book, which is why Schreyer depicted it on the cover and discussed it in the first chapter.
Schreyer is pleased that the top-class auction drew attention to such an unmistakable work of art. He also feels lucky to be able to count himself among the quoted Sotheby's.
"I was just humbled and thrilled to be included in this group of scholars," he said, "for this truly fascinating one-of-a-kind art object."

Short url: https://blogs.umsl.edu/news/?p=89609