Son of artist James Morrison salutes father's passion for painting and his battle against failing sight
It would be a cruel blow to anyone. For James Morrison, one of the most important Scottish artists, it was a cruel turn of fate to lose his sight, which he would not accept without a fight.
His son John, an art historian, said it was difficult for the family to watch his father, who died in August at the age of 88, take the trouble to do what he loved.
"It was very hard to see him trying to paint," he said. "It was who he was and what he did, and when he couldn't do it in a way that he was happy with, it made him unhappy and that was very difficult for all of us.
"There have been other times in his life when painting was difficult for some reason, but this was a physical disability – macular degeneration – and he had no cure for it. He would compulsively change the glasses he was wearing – he had six or seven pairs in a row – but nothing could be done for him. He also had a monitor in his studio to blow up images for him, but it didn't solve anything either. It was all very difficult to see.
"He kept painting as long as he could and there were some from around November 2019 that were on display in his exhibition at the Scottish Gallery last January.
"One of them sold and that was important, someone appreciated it and thought it was a worthy cause. You could see that he was very doubtful about everything he did recently. The fact that one of the very last ones he produced was sold confirmed that for him I think. "
© James Morrison Approaching Storm by James Morrison
Morrison was best known for Scottish landscapes with rolling hills, stormy seas, and gathering clouds, as well as for his overseas projects in the Arctic, Africa, and across Europe. His pictures include personalities of the royal family and JK Rowling.
He was happiest with a brush in hand, and his son thinks his father would have carried on even if he had never made a living from it.
"He said he painted for himself and if other people could figure something out it would be great and I think it stayed that way all his life," said John, who works at Lincoln University.
"He gave up teaching painting in his early 50s, but he would still have painted even if he couldn't make a living from it."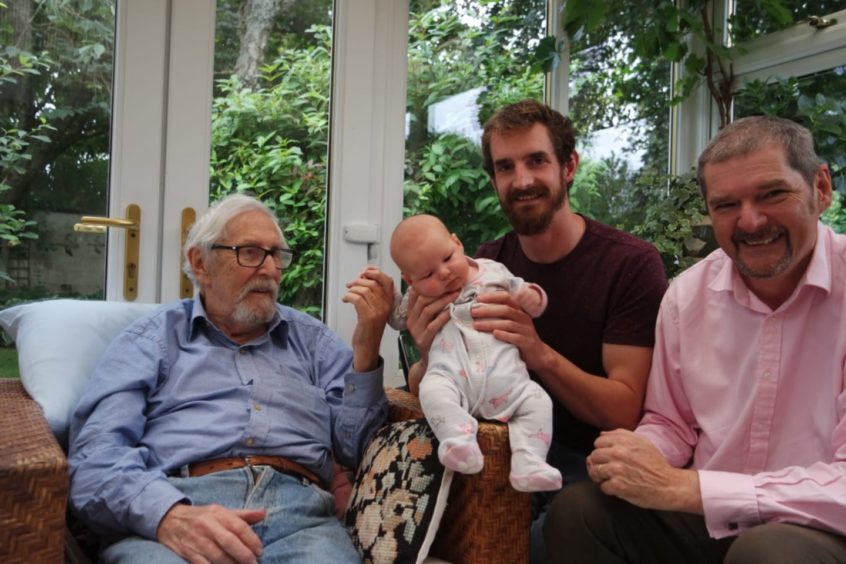 James Morrison with three generations of his family – son John, grandson Lewis and Nellie, his great-granddaughter
A new documentary from Anthony Baxter, director of the You've Been Trumped films, about Donald Trump's controversial creation of a golf course in Aberdeenshire, follows the artist over the last few years of his life.
His father, a shipyard mechanic named John, was born in Glasgow in 1932 and encouraged him by taking James to the Kelvingrove Art Gallery and Museum for the first time and highlighting the importance of education.
"My grandfather died before I was born, but he was one of those self-taught people," John explained. "He had a large collection of books and read a lot and often thought about politics. He influenced my father quite a bit.
"My father was a nationalist, a member of the Party all his life, and his father was a nationalist too. He sold the nationalist newspaper in the shipyards.
"Papa always said if he left school he'd become an artist, it was the only thing he was good at or worked at, and that's what he always wanted." He attended art school and later became a teacher. "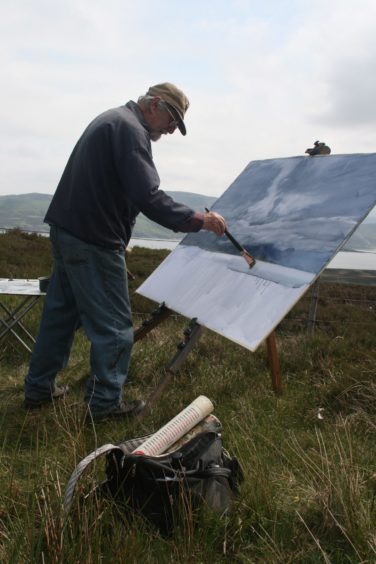 © James Morrison's estate James paints 'what lies ahead' in Angus
John says his father "painted what was in front of him", whether in the Glasgow apartment buildings or when he moved to Catterline near Stonehaven and Montrose.
"He's also painted four times in the Arctic, some very large pictures, and in places like Botswana, Canada, Switzerland and France. In the 1960s he got a three month scholarship in Rhodes and I think that encouraged him to paint in other places. When the opportunity arose, he took it.
"The Arctic had a huge impact on him. It was like no other place he had been, somewhere with no sign of human activity, just the bare land, and that had a big impact. "
Growing up, John and his sister Judith were always surrounded by their father's work. "His painting was a normal part of existence for us. There was always a studio in the house, even if it was a small house, it was the largest room in which he painted. He often painted outside and we went out to see him at work.
"I remember when I was four years old he had a stretched canvas, 7 by 3 feet, and I held it firmly in place. The surface got cracked and he wasn't very happy about it! "
The influence on his family is obvious. John combined his parents' careers to become an art historian, his sister attended art school and is now a teacher, and John's wife, Alyson, took the same printing course as Judith. His youngest son, Lewis, has a degree in arts and is now a stonemason at York Minster.
"He makes decorative stones to replace the weathered and damaged ones," said John. "My father was very excited about it because Gothic cathedrals were something he loved. When I was 15, he took me on a tour of her. When Lewis started working on a Gothic cathedral he was very pleased. "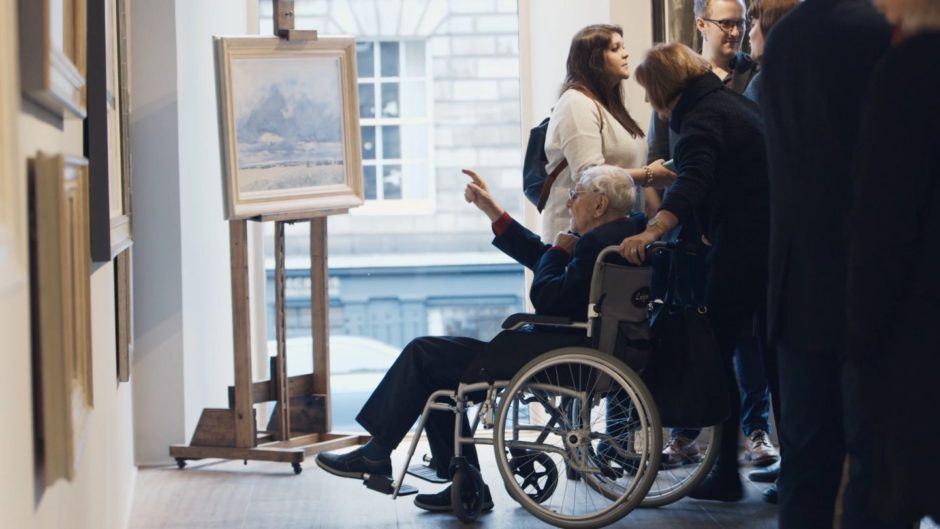 © BBC Scotland / Montrose Pictures James Morrison visits his final exhibition with daughter Judith
The new documentary about his father, Eye Of The Storm, was made when James contacted Anthony Baxter about his Trump films.
"He liked the way Anthony chose Trump and wrote to tell him. Anthony answered and they spoke to each other. He filmed it for a couple of years. The film is a loving and gentle portrait of my father. "
Anthony of Montrose said, "I asked if I could follow him in front of the camera if he should reconsider painting, and he agreed. For a star artist, he was very rarely the focus. His work has occasionally been seen at the Montrose Museum or auctioned off in the city's auction rooms.
"While it's a personal sadness that he didn't see the finished film, I hope Eye Of The Storm will help his stunning works gain new admirers around the world."
With his father's paintings in Kelvingrove and a number of Scottish universities sought after by celebrities, James' talent and legacy are unlikely to fade.
"I hope people will keep looking at and appreciating you," added John. "The landscapes he painted fit into a Scottish tradition and I hope he will be seen as someone who has contributed to something that is identifiable Scottish. I think he would have liked that and I would have liked it. "
Eye Of The Storm, BBC Scotland, Tuesday 10pm and Easter Sunday, BBC2, 9pm