RAL to host 'Art of Screen Painting' workshop | Arts & Entertainment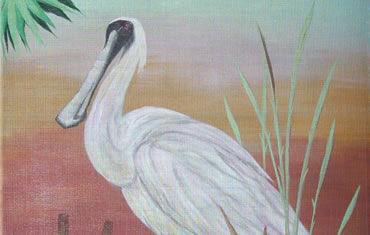 RAL guest artist John Iampieri will teach workshop participants about the art of screen painting on Friday, January 22nd, from 10 a.m. to 1 p.m. in the Rehoboth Art League

Coastal Point • Submitted
Painted screens are an authentic urban folk art created in the townhouse neighborhoods of Baltimore in 1913. Painted door screens offered the row house owner an uninterrupted view of the street, while the colorful images kept people on the sidewalk from looking inside. Guest artist John Iampieri will teach this art tradition on Friday, January 22nd from 10 a.m. to 1 p.m. in the Rehoboth Art League
Workshop attendees can learn the tools and techniques required to paint a high quality framed screen. Each person is left with a finished screen wall hanging. The class size is kept small so that social distancing can take place. Masks must be worn. The cost of the workshop, which includes supplies, is $ 75 per person.
Iampieri grew up in Baltimore and saw hand-painted screens all over the terraced neighborhoods of East Baltimore. As a member of the Baltimore Painted Screen Society, he toured Maryland over the years teaching this 108 year old folk art. His pictures are commissioned worldwide and are often exhibited in museums, companies and the media.
To register for the workshop, go to www.rehobothartleague.org or call the Art League at (302) 227-8408. 112. All workshops take place in the Rehoboth Art League at 12 Dodds Lane in Rehoboth Beach.