Transform Your Cabinets: a Guide to Professional Cabinet Refinishing in Plano Tx
Apr 25
Have you ever looked around your kitchen and wished for a way to give it a much-needed facelift? If so, cabinet refinishing may be the perfect solution. Refinishing is an easy, affordable way to transform your cabinets into something that looks brand new. With the right guidance and some patience, you can have beautiful cabinetry in no time!
By following our guide, readers will gain all they need to know about transforming their current cabinets with ease and confidence. So don't wait any longer - let's get started on giving those old cabinets a makeover!
What is Cabinet Refinishing?
What is Cabinet Refinishing? Cabinet refinishing is a technique that allows homeowners to update their existing cabinets without the expense or mess of full replacement. It involves stripping, cleaning, and resealing cabinet surfaces to restore them to their original condition. The process can be done on any type of cabinetry, from wood to metal and even laminate.
The definition of cabinet refinishing has changed over time as new materials and techniques have been developed. Today's refinishing professionals use high-grade products such as paints, varnishes, stains, sealants, and more to give your cabinets a beautiful new look with minimal effort. In addition to restoring your cabinetry's original luster, refinishing can also protect it from wear and tear for years to come.
Benefits of Refinishing Your Cabinets
Refinishing your cabinets can offer a number of advantages for homeowners looking to give their kitchen or bathroom an upgrade. Not only does it provide a cost-effective solution compared to full replacement, but the end result is often a stunning makeover that will leave you feeling proud of your cabinetry. Here are some of the key benefits of cabinet refinishing:
Cabinet Restoration – Refinishing your cabinets can help restore them back to their original condition. By cleaning and sealing surfaces, professionals can repair any damage caused by wear and tear over time while giving your cabinets a brand new look.
Improved Aesthetics – With professional cabinet refinishers on the job, you'll be able to enjoy improved aesthetics that match your existing décor perfectly. Whether you want to add a modern touch with sleek lines or keep things classic with traditional wood finishes, they've got you covered.
Enhanced Durability – Professional grade products used during the process ensure enhanced durability that won't chip or crack easily. And because these materials are designed specifically for use on cabinetry, you can rest assured that your newly refurbished cabinets will last for years to come without requiring additional maintenance down the road.
Choosing a Professional Cabinet Refinisher
Now that the refinishing process is understood, it's time to find a professional cabinet refinisher. With so many options available, it can be difficult to know which one is best for your project. Here are some factors to consider when selecting a refinishing contractor:
Experience – Look for an experienced and reputable company with plenty of positive reviews from past clients. A good refinishing contractor should have years of experience working on all types of cabinets, as well as knowledge about different stain colors and finishes.
Services Offered – Make sure the contractor offers the exact type of services you need. If they specialize in staining but don't offer any other services, then this may not be the right fit for your project. Ask what kinds of materials and techniques they use before making a decision.
Refinishing Contractor Availability – It's important to make sure that the company you choose has availability during your desired timeframe. You want someone who can start work quickly and finish within a reasonable amount of time without sacrificing quality or accuracy.
By taking these criteria into account, homeowners can easily identify a qualified professional cabinet refinisher in Plano TX who meets their specific needs and budget requirements.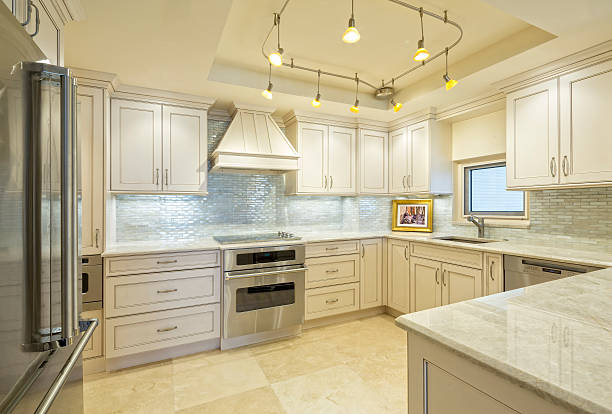 Cost Considerations for Cabinet Refinishing
When it comes to cabinet refinishing, one of the most important factors is cost. Homeowners should take into account all costs associated with the project before making a decision on which contractor they will hire. Cabinet-refinishing costs can vary greatly depending on the size and scope of the job as well as materials used. The cost of refinishing cabinets typically includes labor, supplies, and any additional services requested by the homeowner.
Conclusion
Refinishing your cabinets can be a great way to give them an updated look. Not only will you save money, but it is also more environmentally-friendly than replacing them with new ones. By taking the time to find a professional cabinet refinisher in Plano, TX and considering all of the cost factors associated with the project, you can ensure that the job is done properly and efficiently. With some basic maintenance tips, such as regularly cleaning and polishing the surfaces and avoiding harsh chemicals or abrasives, your newly refinished cabinets should remain looking beautiful for years to come. Taking on this project allows you to bring life back into outdated cabinetry while respecting both your budget and the environment.
If you're interested to know more about this topic, be sure to check this blog post from Spray Tex Painting: https://spraytexpainting.com/cabinet-refinishing-plano-tx-your-guide-to-professional-results/