Preparing for Exterior Home Painting: A Step-by-Step Guide
Mar 8
Ready to renovate your Denver home? Exterior home painting can be scary, but it doesn't have to be. With the correct advice and preparation, you can make this task as stress-free (and even enjoyable!) as possible. This guide offers you with the required information to accomplish excellent exterior paint results - leaving all those anxieties behind so you can enjoy the beauty of your freshly-painted apartment! Exterior painters in Denver know everything there is to know about exterior painting from start to finish, including how to read labels, select colors, use tools and materials, and much more. With Denver exterior painters by your side each step of the way, say goodbye to any hesitations or fears - and hello to a new look for your Denver property!
Preparation and Supplies Required
When you begin any painting project, you must have the necessary tools and materials to get the job done. For exterior painting, you'll need a scraper, a wire brush, high-quality paint and primer, painter's tape, weatherproof caulk and sealer, a roller and brush, paint trays, and drop cloths. Before painting, you might also need to use a power washer to clean the exterior.
Examine and Repair Exterior
Once you have gathered all of the essential materials, you should evaluate the exterior of the house for any cracks, peeling paint, or other damage that needs to be handled first. Any cracks or holes in the wood should be filled and sanded to a smooth finish. Remove any loose paint from the surface using a wire brush, then wipe it down with a moist towel.
Clean Exterior
After your home's surfaces are free of any loose paint or debris, you must clean them using a pressure washer. This will remove any debris and give the paint an excellent surface for adherence. Once the exterior is dry to the touch, use a hand brush to gently dislodge any dust that has settled into the surface crevices.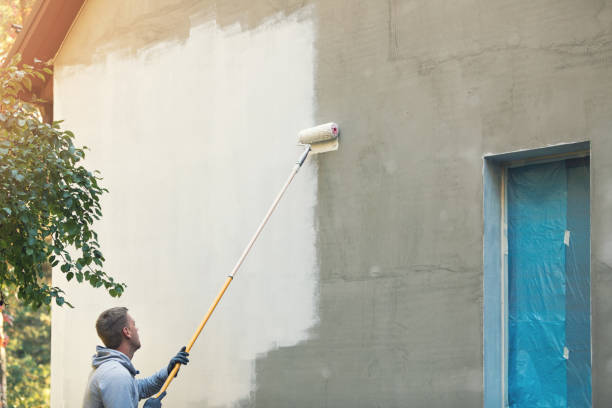 Cracks and Holes Should Be Caulked and Sealed
Any cracks or holes in the exterior should be sealed before painting. To create a flexible, weatherproof seal that prevents moisture from penetrating, use a high-quality weatherproof caulk and sealer. Remove any surplus caulking from the areas you seal.
Prime Every Areas
To ensure the durability of your paint job, you must prime any areas that require it. Primer is a specific sort of paint that improves the adhesion of the top coat and protects the wood from moisture and other factors. If you are painting over raw wood, you should use a primer designed expressly for this purpose.
Apply Painter's Tape
While painting any surface, it is essential to cover any portions that should not be painted with painter's tape. Low-tack painter's tape can be used to mask windows, doors, and molding. This is particularly crucial when painting the exterior of a building, as you do not want paint on the window or door frames.
Begin Painting
After completing all essential preparations, you are finally prepared to paint! When applying latex or oil-based paint, it is crucial to always paint from the top down, as this will assist prevent pooling or dripping. Use a high-quality paintbrush or roller to apply even coats for the greatest results. With lead paint, however, it is best to place a greater emphasis on safety and adhere to the manufacturer's instructions, which vary widely depending on the product. If you take your time and follow these instructions correctly, you will produce results that will last for many years.
Paint Trim and Edges
After painting the home's primary portions, concentrate on the edges and trim. Some regions will demand a bit more attention, as you will need to ensure that you reach every nook and cranny. Use a small paintbrush to reach any tight spaces, then apply the paint in even coats.
Let Paint to Dry
Before moving on to the next stage, allow the paint to completely dry after completing all painting. This could take anything from a few hours to many days, depending on the paint kind, temperature, and humidity.
Examine the Paint and Make Modifications
After the paint has had time to dry, it is necessary to examine the results more closely. Ensure that all areas are properly coated and that there are no paint chips or other flaws in the finish. Use a small paintbrush and the appropriate paint color to make any necessary modifications. This will assist ensure a quality paint finish and keep your surfaces appearing smooth and brilliant for many years.
Seal External Surface
If you are satisfied with the paint work, you should add an additional layer of protection by sealing the paint. In addition to protecting the paint from the outdoors, exterior sealants make it easier to maintain your property clean. Follow the product's directions carefully for optimal results.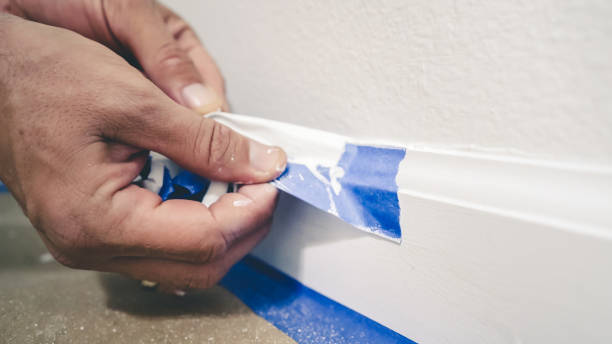 Detach the Painter's Tape
The completion of an external painting project does not end with the application of paint. After the last coat of paint has dried, it is vital to apply sealant to preserve the exterior from weather and wear. After applying sealant and allowing it to dry, you can begin carefully removing the painter's tape along the borders for a clean finish, but be sure to do so in the same direction it was applied. If paint residue remains, remove it with a moist cloth to achieve a professional outside finish.
Delight in Your Newly-Painted House
After removing all tapes and cleaning up the mess, it is time to enjoy your workmanship. You've managed to give your home a much-needed facelift that will be loved for years to come thanks to your patience and planning.
It is not necessary to be an expert to paint the exterior of your home. With some planning and by following our guidelines, you can change any home into an aesthetically pleasing space that will attract attention! Devote a substantial amount of time to completing this task; it will provide you with enormous satisfaction when completed successfully. So hurry up and ensure that everyone is appreciating your freshly painted home as soon as possible!
If you're interested to know more about this topic, be sure to check this blog post from Harmony Painting.