How to Choose the Right Exterior House Painter
Feb 6
Finding the ideal house painter for your particular needs might be an intimidating endeavor. Whether you want to improve your home's appearance with a new coat of paint or have an urgent need for repairs due to weather damage, the correct painter makes all the difference. You will need to ensure that they have the necessary experience, expertise, and tools to complete the task correctly the first time. In this post, we will explore how to find the most qualified exterior house painter for your needs.
Customer Feedback Recommendations
Referrals from relatives, friends, and neighbors who have hired skilled exterior house painters in the past are the most effective approach to finding such services. To ensure that the painter you are considering is qualified for the task, you should inquire about his or her past work history. You can even request that they provide you with the painter's contact information so that you can make further inquiries.
Alternatively, you can look for local house-painting companies on review websites like Yelp. Consider the company's favorable evaluations, recent activity, and even images to gain insight into the type of work it performs.
Evaluation of Portfolios
Once you have cut down your list of prospective painters, request to see their portfolios. This will reveal a variety of initiatives they've worked on in the past, as well as the ones they've initiated. You may now make a more informed selection about who possesses the necessary experience and skills to finish your job.
You may also find it interesting to study internet reviews of the company's prior projects and reputation. This will reveal how they conduct business and whether they are dependable and trustworthy.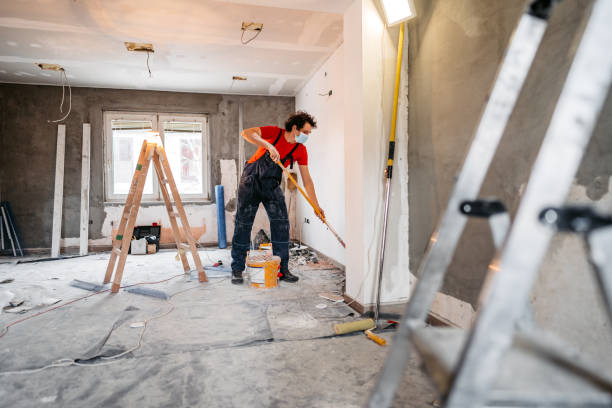 Get a Clear Quote from Exterior House Painters
Investing in a paint job for your home's exterior can be a significant commitment, so it's crucial that you obtain estimates that itemize all the associated fees. Additionally, you should inquire about the materials and labor that will be used, as well as any additional costs that may be incurred. It is essential to know exactly what you are paying for and to ensure that the pricing is fair and acceptable.
Additionally, it is advantageous to inquire about a timeline for the completion of the project by asking how long it will take and if the schedule is feasible. This will ensure that you receive an accurate cost and time estimate for the project.
Inquire About Licensure and Permits
Before hiring a painter, confirm that he or she possesses a license and the necessary licenses to operate in your area. If not, you might have to search elsewhere. A licensed painter will have the expertise and skills necessary to accomplish the project, as well as the ability to adhere to local regulations.
Also, be sure to inquire about their safety procedures and how they will protect the safety of you, your family, and your property during the project.
Verify Painters' Insurance Coverage
When hiring a painter for an external painting project, insurance is a must. With the proper coverage, you can safeguard yourself against any losses, accidents, or severe problems that may emerge during the process. This can not only save you money if something goes wrong, but it can also provide you with peace of mind if something goes wrong due to no fault of your own.
Before hiring a painter or contractor for an external painting job, be careful to inquire about their insurance coverage. In this way, you will be better prepared for whatever life may throw at you.
Request an Example of a Prior Exterior Painting Job
If you are in the market for an exterior house painter, it is advisable to get examples of the artist's completed work. Excellent painters should be able to offer evidence of the superiority of their work.
Frequently, the websites of distinguished service providers feature photographs of the final goods they have produced in the past. Requesting images will assist you in locating an artist that can provide the desired outcomes.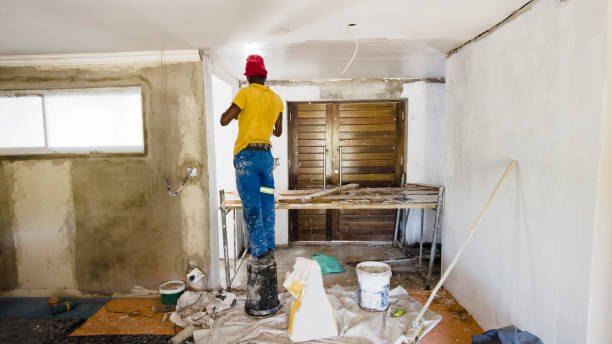 Inquire Regarding the Paint's Quality
When purchasing paint for the exterior of your home, it is in your best interest to invest in a product that will produce durable effects. Not all paints are made equal, and there are a number of elements to consider. When it comes to weather resistance and longevity, oil-based paint may be the superior option, although water-based paint offers a greater variety of colors and a faster drying time. Taking the time to visit specialized paint stores and examine paint varieties, alternatives, and costs will assist you in acquiring the appropriate paint for your job.
Consult a competent painter about the product they plan to use on your home and the amount of protection it provides. Researching paint manufacturers beforehand can also assist ensure that the paint you use on your property is of the highest quality and will withstand years of use.
Verify Product Warranties
Look for paint businesses that provide guarantees in the event that water damage or other factors cause the paint to peel or fade. It is necessary to get paint of the finest quality; this investment should last for years, and a warranty is a must.
The painting business you select should be able to inform you of the specifics of the company's warranties so that, should the need arise, you can easily replace the paint.
Investigate Preparation Work
The quality of the finished product is primarily determined by the quality of the preparatory work. A reputable painter should be able to present you with a summary of the pre-painting preparation work they will perform.
This may involve pressure-washing the outside, sanding, taping, and priming. Request a description of the preparatory work that the painter will perform to ensure that the task is executed to the highest standard.
Request References
If you are still uncertain about a painter, it can be useful to request recommendations from prior clients. This will offer you an indication of how the painter works, their quality of customer care, and the level of satisfaction of previous clients with the end product.
Finding the right exterior house painter for your particular needs is a crucial undertaking. You will want to ensure that they have the necessary skills and experience to accomplish the work at the highest level. By adhering to these ten guidelines, you can locate a painter who can revamp your home with a new coat of paint.
If you're interested to know more about choosing the right exterior house painter, read this blog from Patch and Paint Pros: https://patchandpaintpros.com/how-to-find-the-best-exterior-house-painter-for-your-needs/